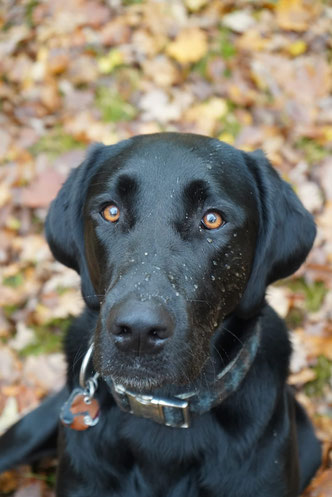 Mats lives on the autism spectrum, often he does not understand the world, noises and hectic movements scare him. Fear leads to overload and then to the so-called shutdown (a violent overload reaction) or even to meltdown, a sudden collapse.
That alone is exhausting for Mats and his family. Then there are the normal wishes and ideas of a boy on the verge of puberty: meeting friends, belonging and experiencing something.
With Daphne by his side, Mats can find peace. She offers him security, is there for him even when he cries out of sheer overwhelm. Daphne's training so far has taught her to remain calm in a variety of situations, creating distance from others when needed by putting herself between Mats and "the others." She seeks physical contact and lies down next to him when everything has become too much….
In short: Daphne accompanies him in everyday life and has become a reliable and beloved dog for the whole family.
TRAINING IS ALMOST OVER AND MATS, HIS PARENTS AND DAPHNE COULD GO TO THE TEAM CHECK. BUT THERE IS STILL ABOUT 2.500,- € MISSING. WHO WILL HELP US TO COMPLETE THE WORK WE HAVE STARTED?
Sparkasse KölnBonn –
Donation account: 1934072479
IBAN: DE04 3705 0198 1934 0724 79 – BIC: COLSDE33XXX
Intended use: Mats and Daphne