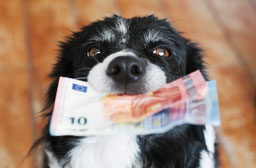 RECRUITMENT STOP AND APPROVAL STOP FOR NEW APPLICATIONS FOR A SPONSORED ASSISTANT DOG!
It is with a heavy heart that we have decided NOT to accept any more applications for a TRAINED assistance dog on a donation basis at this time (as of November 2022). Joint training with an already existing and suitable dog is possible. Likewise, of course, training as a self-payer with secured funding. Of course, nothing changes for the applicants with whom we are already in contact!
Why we decided this way?
Perhaps the most important reason: since the beginning of this year, our donation income has plummeted by nearly 85%. We simply cannot purchase, raise and train more dogs, let alone fund training with human team partners from donations.
The Assistance Dog Act provides for ISO certification for training centers and examiners. This is enshrined in law and mandatory… BUT there is still no body that accepts this (very expensive) ISO certification.
The ordinance on the Assistance Dog Act (AHundV) has still not been passed. We still have no idea what we need to train and test, how and to what extent.
Therefore, until further notice, Helping Paws has only two options for joint training of an assistance dog team:
an already existing and suitable dog is trained together (assisted self-training)
funding for an assistance dog and joint training has already been secured. In this case, we are happy to train a dog together (assisted self-training) or train a dog with us (outside training).
Photo: Dvorakova Veronika / Shutterstock
An exciting first quarter of 2022 has come to an end....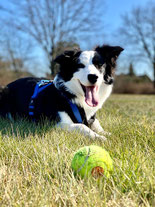 What we have achieved:
At the end of January, Doro and her trainer Heiko Küsters successfully passed the quality test for assistance dogs at the Messerli Institute of the University of Vienna. So it was clear: Doro was allowed to move and is now training for the team test together with her young assistant and her parents.
On the same day, a team in self-training, Nina and her assistance dog Cooper were able to take the team test at Messerli. This means that the two are now a tested team. Congratulations from the bottom of our hearts!
At the same time, the Rosengartenstiftung (Rose Garden Foundation) promised to contribute €1000 to the examination of Nina and Cooper. We would like to thank the Rose Garden Foundation for this.
At the end of February, a Labrador puppy moved in with his foster family: Feliz will be introduced to you in more detail in the section "Club dogs".
In March, a private concert was held to benefit Zoe and her family. Almost 300,- € were collected, which will help us to train an assistance dog for Zoe and her family.
At the end of March the next two puppies, Felipe and Rubia Fuerte, finally moved in with us. Also these two we introduce to you in the column "club dogs" more near.
At the end of March, Dortje was finally able to pass her quality test for assistance dogs at the Messerli Institute of the University of Vienna. After that Joelle, after five! long years could finally receive her assistance dog. Now we are training together for the team exam. Right in the first week after the move, Joelle and her dog Dortje were in front of the camera for a report by WDR Lokalzeit Duisburg. They did a great job, we are proud of you! Please help us with a donation, so that never again a young person has to wait so many years for his four-legged partner!
Also at the end of March, our 1st chairman Heiko Küsters was allowed to present the "Concept Assistance Dogs", their importance for people with disabilities and our association at the Rotary Club Grünwald. Energetically supported by Dortje the dog, it was an interesting and beautiful evening.
At the end of March our crown cork campaign started: collect crown corks, send or bring them to us… and we can sell them at the scrap dealer. 100% of the proceeds go towards the training of the dogs and teams. Helping can be so simple. Anyone who would like to collect for us or knows someone who would set up a collection box for crown caps: we would be happy to hear from you.
The legal ordinances on the assistance dog law and other information already announced for the fall of 2021 continue to be a long time coming. Even when asked, the BMAS cannot tell us when there will be news.
FUNDRAISERS:
We continue to collect for various projects: Please have a look at "Fundraising". Every euro helps us and brings us one step closer to our goal: to make children's eyes shine.
OUTLOOK:
We hope for the birth of a Labrador litter in summer and eagerly await the litter announcement with Golden Retrievers and Longhair Collies in summer / fall. However, we can only take further puppies into training if we can collect donations to finance the acquisition, care and training of the puppies. Again, please support us, with a monetary donation, with our crown cap campaign, or with other ideas.
Overath, March 2022, the Board of Management
What we achieved in 2021....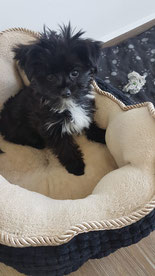 In February, a little black puppy saw the light of day in the club. Emma had apparently made herself so comfortable in Mama Molly's belly that she remained a single pup. Pampered by Mama Molly, the other "dog aunts" and "dog uncles" and their breeders, Emma developed into a self-confident dog child. She promptly failed the assistance dog aptitude test as "too confident and rebellious" and now lives as a family dog in Munich. Since this was Molly's last litter as planned, she was spayed in the summer. Actually, the plan was for Molly to stay with us and continue to help us with the young dogs…. but we got a totally great letter from a former foster family who wanted to take Molly so much as a family dog with them. So, after much deliberation and with a tear in the corner of her eye, Molly moved to the far north and now enjoys all the benefits of "single dog life".
Just in time for the first of August we could welcome Labrador puppies again. Unfortunately, three of the five puppies have directly started the journey over the rainbow again. The two remaining ones develop super and the small male, Enjoy lives now in his godfather family. Let's see where his journey takes him.
His sister Elara showed a lot of self-confidence and temperament early on. She now lives together with a Viszler bitch behind Hamburg and gives her family a lot of fun.
Already in February 2021 we could welcome Elli with us. As a yellow Labrador bitch from a great breeding near Moscow. Elli moved with her 1,5 years directly to our trainers Katharina and Heiko Küsters and completed first her basic training and then her special training as a companion dog.
Then in April, after a long journey from near the Siberian border, Enya came to us. She also moved, also 1.5 years old directly into the "trainer household Küsters" and completed her basic training there. Quickly the right team partner was found and the two are now preparing for the team exam as "Indication dog in medical emergencies".
With Ebony, Evan, Egon and ET, four Briard siblings moved in directly for training in the fall. Ebony, Egon and ET moved in with their foster families, Evan is currently learning the basics of assistance dogs with his experienced mistress. Unfortunately, we had to discard ET after a few weeks. His sensitivity prevented further training as an assistance dog. He moved back to his breeders and I'm sure he will be a great, gentle male one day with a loving and experienced family.
With Elenja we were able to take in a petite Aussie-Border mix bitch in the fall. Elenja is now living with an experienced foster family and will hopefully be able to start her special training at the end of 2022.
Little Nick got his future assistance dog: Momo, a little Golden Retriever bitch. They are accompanied directly at home by an experienced trainer (Katrin Riedy).
Diggi, a male Labrador, moved to his foster family in the summer and is already training diligently with his future team partner Naidu and his mother, in addition to learning the basics.
Our dog azubis from 2020:
Dori could successfully pass her team exam in December and is now, together with her mistress Doris a well-rehearsed and tested assistance dog team. We are happy to be able to continue to accompany them and wish them all the best!
Dobby unfortunately had to be taken out of service. Although both parents are completely checked out, he has developed severe HD. Now he lives as an active and happy companion with a lady and her cat. He is doing very well and we hope this will continue for a long time.
Demi moved in with her future assistant back in January and the two have become a well-oiled team. Both continue to train diligently so that this year the team test can take place. Demi is now neutered and completely x-rayed, which was not so easy with just 2kg dog.
Daphne moved in spring to her assistant and his family and is now being prepared for the team test by our trainer Heiko Küsters. FOR THE TEAM AND ITS FURTHER TRAINING WE STILL NEED DONATIONS!
Doro still lives with her foster family and is scheduled to take her quality exam at the Messerlie Institute in Vienna in January 2022. She is already neutered and also the health check was successful. Doro also already has a team partner and will continue to train with us after successfully passing the quality test as an assistance dog for FASD.
Dortje also still lives with her foster family. Dortje is also scheduled for a quality assessment in early 2022, with a subsequent move to Joelle, who will then support her as a service dog with limited mobility.
Darcy now lives with her family and continues to learn everything an assistance dog needs in everyday life.
Dunya has also moved. Unfortunately, her assistant had to pause the training due to health reasons. We hope he will soon be fit enough for us to continue.
Donnatella, King Poodle bitch and living in foster family, unexpectedly moved in with a young man in ASS on short notice in the fall. His only 5 year old assistance dog died unexpectedly overnight and Donna managed to reach the young man's heart.
TEAMS:
The pandemic year 2021 has also left its mark on us: a few of our trainers have decided to go back to their "old" profession and (temporarily) stop training dogs. So in the end 3 trainers are left. Kathrin Riedy accompanies Momo and her family. Heiko Küsters accompanies the families and sponsors in the south and Katharina Küsters all other teams.
Animal Welfare Project:
Due to the pandemic, we were not able to take in dogs from animal welfare this year. We hope this will change in 2022.
FUNDRAISERS:
12 fundraisers started in 2021 or continued from previous years. Joelle, Alyena, Naidu were able to raise the needed funds. For this we thank all supporters. However, we need more donations:
Zoe, or rather her parents, would like an assistance dog to support their daughter after epileptic seizures and to be a friend in everyday life.
Doro's team partner lives with FASD and is very excited about her dog, again we appreciate donations.
Leonard lives with autism and epilepsy, the funding is almost done, but there is still about 8.000,-€ missing.
Daphne is already helping her team partner, Mats, manage his daily life with Autism Spectrum Disorder. The family is doing everything so that the training can be completed, there is still a shortfall of almost 2.500,-€.
Tobias has been living with his assistance dog Sarah for a few years now… but very slowly Sarah shows that she is no longer the youngest: life at the side of a young man with epilepsy and an autism spectrum disorder can be exhausting: we would like to start training a successor for Sarah during the next year (2022). For this, we are therefore starting from scratch again with fundraising.
And we would like to acquire more puppies, accompany them in the first part of training and pass the health check / quality test. We had to experience how important this can be in the spring when Dobby was taken out of service at short notice and in October when Freddy, autism assistance dog unexpectedly lay dead in his basket in the morning. Fortunately, Donnatella was able to reach the heart of the desperate young man and the two slowly grow together as a team. Since Donnatella has already been x-rayed at six months "Penn Hip", we know that at least this health part is safe.
OUR SPECIAL HIGHLIGHT:
In 2021, we received the information that a foundation had been established for us at the Sparkasse Vorderpfalz. The donor wishes to remain anonymous, it is also a community of donors, so hopefully in five years we can expect a first small donation.
Emilia and Elli are looking for their team partners....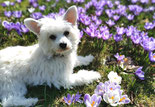 we still don't understand exactly why, but neither Emilia nor Elli has ever really fit with a human.
EMILIA is looking for a team partner in the field of ASD (especially Asperger's Autism) or a comparable disorder/disability or a child with a developmental delay.
Elli is looking for a team partner with an ASD disorder (specifically Asperger's Autism), a child with a developmental delay, or a team partner with dementia.
DONATING IS NOW EVEN EASIER....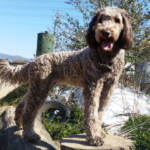 From now on there is the possibility to donate directly from our homepage. Thanks to the support of betterplace.org, a few clicks are now enough for YOUR CONTRIBUTION to the training of an assistance dog for children with disabilities.
WELPENALARM: More puppies have started their training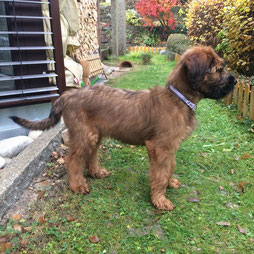 No less than four Briards have begun their training as assistance dogs:
little dog Ebony and her brothers ET, Egon and Evan moved in October and are now preparing for their life as assistance dogs.
While Ebony and ET first moved into foster families, Egon and Evan live with their human right from the start and we train together.
Ebony and ET welcomes donations and sponsorships to help us cover training and maintenance costs. An education sponsorship is already possible from 20€ per month. For more information, please contact us directly.
WELPENALARM: Welcome little Elenja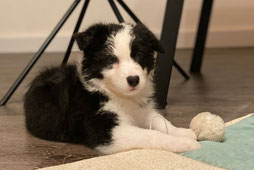 Little Elenja, an Aussie-Border mix and born in July 2021 was allowed to move in with her foster family.
With the existing, experienced Labrador dog she gets along very well and also the family cat was accepted directly as a play partner.
The coming months Elenja may now enjoy her puppy and young dog time, grow and discover the world. If she continues to develop well, successfully passes the health check and also the quality test as an assistance dog, she will accompany her human as an assistance dog in about 2 years.
Elenja is happy about donations and sponsorships, which help us to cover the education and maintenance costs. An education sponsorship is already possible from 20€ per month. For more information, please contact us directly.
ELARA HAS FOUND HER HUMAN! Labrador puppy is looking for a home as a family dog: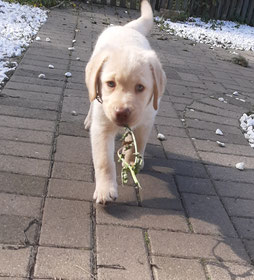 UPDATE: Elara is no longer searching. She has found her human and now lives near Hamburg. We wish Elara and her family all the best.
From our current Labrador litter, one yellow (blonde) bitch unfortunately did not pass the suitability test.
ELARA is therefore looking for a home from 30.09.2021 as a family dog, therapy companion dog, visiting dog or for work in the search dog squadron / rescue dog work.
Elara was born on 01.08.2021, is yellow with light pigment.
Elara is NOT an ASSISTANT DOG, will not be given for assistance dog training and also not for breeding, this is also contractually agreed.
Elara is basically calm, confident, people friendly, likes to fetch. She is sensitive and confident, open, friendly and will be really fun as a family dog, in rescue work or as a therapy companion dog.
Our puppies are born in the house and grow up there in the pack. They are of course chipped, vaccinated, dewormed and have a blue pet passport when they are handed over. Of course Elara brings her puppy folder and a small puppy package.
Even though the Labrador is basically described as an "ideal family dog", Elara, like all puppies, needs a lot of rest and education, clear structures and an age- and species-appropriate workout.
Price 2300,-€
We are a non-profit organization and the purchase price for Elara will help us fund the training of her brother, who will be going into assistance dog training.
Foundation established for the benefit of Helping Paws: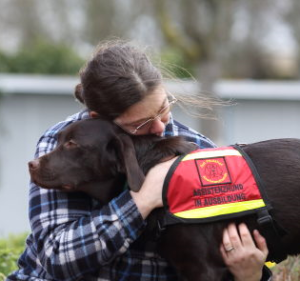 In April 2021, news reached us that made us very happy and will hopefully facilitate our work in the future.
An anonymous donor has set up the Sparkasse Vorderpfalz has set up a foundation for the benefit of Helfende Pfoten.
https://www.sparkasse-vorderpfalz.de
We hope that many more citizens will participate in the civic foundation, this is possible even with a small contribution, a small deposit.
We very much hope to receive funds from the foundation proceeds for the first time in 2 to 3 years for the training and maintenance of an assistance dog. Until then, we continue to rely on donations.
CHANGE DOG LOOKING FOR NEW HOME: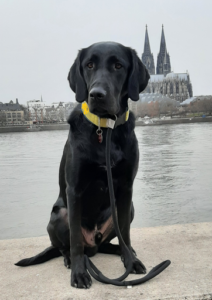 Sometimes it just doesn't work out …
One of our second generation F1b Labradoodle (Labradoodle X Labrador) is unfortunately looking for a new home as a FAMILY DOG (possibly school dog / visiting dog).
Dobby, born in January 2020 with us, unfortunately did not pass his health check. During routine X-rays, it came to light: one of his acetabular cups had not grown properly with him. In technical language this is called: HD B2 / C. Neither the vet nor we can say whether he will have problems with it one day. Many dogs go through life with a "bad" hip and do not get any problems until old age.
In situations that are scary for him, he can also woof and then needs the information of the owner to stop. Once he has looked at a situation, all is well.
These are the negative sides. BUT DOBBY ALSO HAS MANY POSITIVE QUALITIES:
He is very people oriented, exceptionally nice for a 14 month old male (as of mid-March 2021). Dobby knows other dogs of all sizes, both males and females and although he is clumsy and at times a little very gullible, he has so far shown aggression to a second.
Children should be stable or already older. Due to his size and HD, he will not be moving into a household with children under the age of 10.
Dobby knows the basic commands and follows them according to his age: with little distraction very well, the bigger the distraction the harder it is for him to concentrate at the moment. He can run freely after acclimation and knows the recall, also here applies: age-related is also in the recall still potential upwards.
He can stay alone after acclimation, but not for hours. He is also house trained and in the house Dobby is very calm anyway, as long as he gets his exercise on the structured walks.
A trainer friend of mine said of Dobby: he is very easy to lead when you lead him. Dobby is not a side dog, not a self-starter, and not a "just there" dog. He wants to be challenged, likes to learn quickly and at the same time is very calm and relaxed.
Not quite insignificant: Dobby is black (with very few white markings on chest and paws), he is very large (about 70cm shoulder height) and currently weighs 37kg (according to the vet it should not be much more kilos). AND DOBBY IS A LIFE SAVER: as a registered blood donor at a veterinary clinic in Cologne, he can save other dogs' lives.
Of course Dobby is currently vaccinated, carries a chip and is registered with Tasso.
Dobby is mediated against a protection fee, which does not cover the costs of rearing and previous training by far. In order for the disabled person for whom Dobby was intended as an assistance dog to have a four-legged partner, we rely on donations. We will now look for and train another dog for this person, unfortunately.
What we have achieved:
In January, 6 puppies saw the light of day in the club. Mom is our Labradoodle bitch "Molly", dad is calm relaxed Labrador male Anders. Anders accompanies his person every day to a workshop for people with disabilities and works there as a "coolness trainer" for and with the young people.
In April, 4 of the 6 puppies could start their training as assistance dogs: Daphne and Dobby moved to their foster families to accompany their humans as alert dogs in medical emergencies later on. Daffyd is accompanied by our trainer Katharina Küsters to become an autism assistance dog and Dori learns everything an assistance dog with PTSD has to learn.
Duke is a "music therapy dog" and Debbie lives near us as a beloved family dog along with 5 cats.
In June Labrador puppies were born at our trainers Katharina and Heiko Küsters. Mommy Layla took very caring care of her 5 puppies. Unfortunately, due to the current Corona pandemic, Papa Marley was unable to visit his puppies. The trip would have been too dangerous for his severely disabled person. At the end of August, the time had come: Doro moved to Lake Constance, where she is shaking up the lives of her foster family. She is supported by Sister Delizia, who showed too much temperament as an assistance dog and now lives as a beloved family dog. Dala and Dortje moved in with their experienced foster families and will return for training during 2021. Brother Dean, the only male convinces his family with his calmness and composure and enriches the family life very much.
Also born in June was Demi, a Yorkshire-Havanese mix female who is currently being trained in parallel with her foster family and with one of our trainers.
In September and October, two more dog ladies were added to the training: Darcy will now become an assistance dog for a severely disabled boy and Dunya will be trained together with her human as an assistance dog at Nakroleppsie.
Our dog azubis from 2018 / 2019:
Chayim, our 2019 Goldendoodle male unfortunately could not complete his training: his health check revealed hip dysplasia. Now he is a family dog and lives at the Baltic Sea. Regular swimming in the Baltic Sea is a great workout for his hips and muscles.
Calista, the sister of Chayim made it exciting. She only found her human in December and will soon be taking her assistant to work with her.
Claire, the Labrador bitch found her human in late summer: She now lives as a (prospective) PTSD dog in Münsterland.
Caruso, Claire's brother is still in the middle of training to become an LPF / mobility dog and continues to charm us with his composure and calmness.
Curie, the little spaniel mix dog from Cyprus is making a real mess of her human's life and will complete her training as a PTSD assistance dog next year.
Arthur, Goldendoodle from 2018 has successfully completed his time in the foster family and moved to his human in May. In November, they were able to show what a great team they are in the team test. Congratulations on passing the exam!
Arielle, Doubledoodle bitch from 2018 has also found her human and now lives as a warning bitch at Epilepsy near Leipzig.
Aurora, our big, gentle Labradoodle dog found her destiny in a family with 5 children, one of whom is diagnosed with autism spectrum.
TEAMS:
With our current 8 trainers, we were able to train a total of approx. 35 teams accompany. Even though not all teams needed the financial support of donations, we are happy to be able to accompany so many people on their way to becoming assistance dogs.
Animal Welfare Project:
With Duana we have taken in a bitch from Spain for training this year. Unfortunately, it turned out that she could not start her training due to health reasons. Duana lives now as a family dog again with her mediating association and enjoys her retirement.
Dunya, Labrador (mix) bitch has successfully completed her trial period and is now undergoing further training together with her human.
FUNDRAISERS:
In 2020, we were able to successfully complete a total of 3 fundraising campaigns. Thus, the acquisition and training of further dogs is secured. We are happy and grateful for the support, which we are very happy to pass on to the teams.
OUR SPECIAL HIGHLIGHT:
As of December 2020, we are an official candidate for membership in Assistance Dog International. We are very proud that our application and our efforts were successful. Now it is time to prove ourselves for another two years so that we can acquire full membership.
"CANDIDATE of ASSISTANCE DOGS INTERNATIONAL (ADI / ADEu)."
We did it! After long and intensive preparatory work we are now "CANDIDATE of ASSISTANCE DOGS INTERNATIONAL (ADI / ADEu)".
Candidate means: We have convinced the board of the world's leading assistance dog organization that we are a good candidate for membership. Now it's time to prove yourself for another 2 years to be able to achieve "full membership".
We are so pleased to have reached this milestone and to be able to ensure recognized high standards for our teams in the future.
---
Club dogs have been updated on the homepage (12.12.2020)
Our current club dogs are on the homepage. These five young dogs (all born in 2020) are looking forward to receiving applications from interested people.
Club dogs were updated on the homepage (03.11.2020)
Our current club dogs are on the homepage, we are working diligently to fill the other pages as well.
TV contribution 16.08.2020:
Switch on all! We are very excited, on Sunday there will be a TV report with our team:
"In Bonn, however, the dog becomes a savior: here, an assistance dog manages to sniff out and alleviate an epileptic seizure."