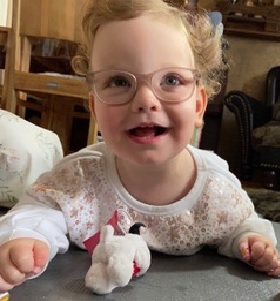 Zoe is only three years old and lives with a genetic developmental disorder and a rare form of epilepsy. Her parents write:
Zoe's parents report:
An assistance dog would take on so many wonderful roles in Zoé's life, but most of all, it would be her lifesaver. He is always by her side, recognizing seizures, getting help and then necessary things such as Zoé's medication, cell phone for the rescue call in case of emergency, stopwatch and other people. The dog calms Zoé and helps her get out of the seizure by making certain gestures. He is her friend, her pillar by which she may learn to stand, and so many more things.
We parents know our daughter is safe and may be more likely to find sleep at night. As parents, knowing that there is always a partner by Zoé's side to protect her, support her and make her happy is priceless. In our case, unfortunately, also literally true, because the health insurance currently does not cover the costs. Nevertheless, we would like to go the way for Zoé to become an assistance dog and are very grateful for any donation.
Assistance dogs: a four-legged friend for children and young people with disabilities
Assistance dogs are so much more than "just dogs." Through their nature and especially through the lengthy special training, they are partners, helpers, friends and sometimes lifesavers in one. But for many families, an assistance dog remains a pipe dream. Acquiring, raising and training an assistance dog involves high costs. The legal requirements for the health, training and testing of dogs also require a great deal of effort.
Quickly 30,000 € and more have been collected: hardly manageable for a family with a "special" child / adolescent. We as an association prepare man and dog for life together as an assistance dog team, accompany a dog's life. For this we are collecting donations so that families with a lower income can add an assistance dog to their family. Together we can achieve a lot. Our mission is to make children's eyes light up, with an assistance dog by their side.
Please transfer donations for Zoe and your assistance dog with the keyword: ZOE as reason for payment. Permanent donations from 5€ per month are also possible. These permanent donations provide us with long-term support in caring for the dog and taking care of the family.
Helfende Pfoten e.V. for assistance dogs & their humans
Savings Bank CologneBonn
BIC: COLSDE33XXX
Intended purpose: ZOE
IBAN: DE04 3705 0198 1934 0724 79