A few of our former dog azubis introduce themselves here once again: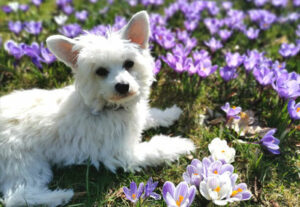 Emilia (Mina)
Chinese Crested bitch, born June 2020
Our little big Mina spent her first year in a foster family and got to know the city and family life there.
Mina is a great dog, friendly, playful and affectionate, while bright and always ready to do something with her human. She is a very calm and relaxed bitch, which nothing brings so fast from the rest.
Mina is already spayed and her health check was flawless. So Mina is ready to meet her personal team partner and learn in the special training everything an assistance dog should be able to do in ASD (especially Asperger's Autism) or a similar disorder.
MINA HAS FOUND HER TEAM PARTNER.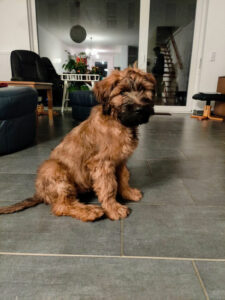 E.T.
Briard male (Berger de Brie), born August 2021
ET is the "little" big brother of Ebony, Egon (already moved in with his human for training) and Evan (also already moved in with his human for training together).
E.T. HAS UNFORTUNATELY NOT BEEN ABLE TO OVERCOME HIS INITIAL RELUCTANCE, SO THAT WE HAVE DECIDED WITH A HEAVY HEART TO SPARE HIM THE FURTHER STRESS AS AN ASSISTANCE DOG IN TRAINING. His breeder has offered to take him back and find him a suitable home.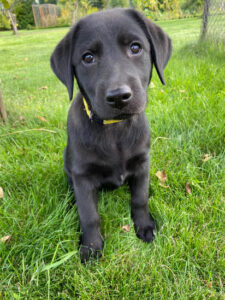 DALA HAS MOVED AS A FAMILY DOG
Labrador, born June 2020
DALA UNFORTUNATELY DID NOT PASS HER FIRST HEALTH CHECK AS AN ASSISTANCE DOG. She is doing well, but unfortunately she cannot become an assistance dog. NOW SHE LIVES AS A FAMILY DOG WITH HER FOSTER FAMILY.
Dala, our "petal" is a Labrador bitch from the working line. She is bright, curious, friendly and loves to learn quickly. At the same time she is rather calm in the house and can already relax well.
We will see where Dala shows her strengths and in which "job" she could have the most fun one day. Until then she can enjoy her puppy and young dog time in her foster family.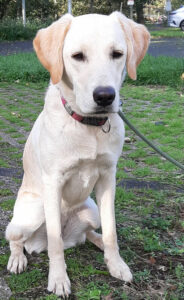 DUNYA HAS MOVED
Labrador bitch, born November 2019
DUNYA joined us in September 2020 and is participating in our program "Help Me Help: Animal Welfare Dogs Become Assistance Dogs". Her humans unfortunately fell seriously and permanently ill, so she was looking for a new home.
Her name means: the one who wants to please. Dunya is a bright, eager to learn and very social bitch. She currently lives with a sponsor family and accompanies her sponsor wife to the occupational therapy practice every day. From the existing older therapy dog she learns the small and big dog-1×1 and in the training she shows herself eager to learn and eager.
We'll see where Dunya's path takes her. As she is not showing much inclination to retrieve at the moment, we favor a human partner with support needs in the area of: autism spectrum, mental illness, PTSD.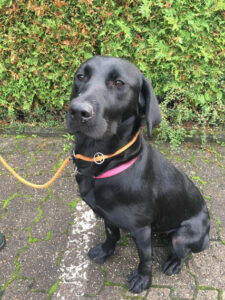 DARCY HAS MOVED!
Labrdor Golden Retriever, born January 2019
Darcy means "the dark one." Photographing Darcy is almost impossible. As soon as she sees a camera she slides very, very close and grins or looks as if she hasn't had anything to eat for days.
Darcy is eager to learn, work and please people. To experience something together with the human being and to be very close to it is the greatest thing for this petite bitch. Darcy has already been fully vetted, found to be healthy and neutered.
DARCY shows great skill in retrieving and also enjoys working with "special kids".
UPDATE: Darcy has moved and is in training to become an assistance dog.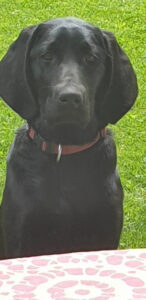 DAPHNE HAS MOVED!
Labrdoodle (F1B), born in January 2020
Daphne means: "laurel tree", the laurel represents prosperity and success.
Daphne is a daughter of our club dog "Molly" (Labradoodle) and the Labrador male "Anders", a therapy dog. Daphne is very eager to learn, rather calm and extremely friendly. With strangers often shows the heritage of "Pudeloma":
She is a little reserved at first.
Daphne lives with another bitch with her godfather family near Munich and inspires us all with her nature and her ease of handling. Daphne has been warning of impending focal epileptic seizures and asthma attacks as early as 6 weeks of age.
Daphne sheds pleasantly little, is quite tall (about 60cm) and sturdily built. Her figure clearly reflects the Labrador dad.
UPDATE: DAPHNE HAS MOVED AND IS IN TRAINING TO BECOME AN AUTISM_ASSISTANCE_DOG.